How do you identify a backing singer when there's no footage of them performing?
That's the problem with Luxembourg's 1964 entry, Dès Que Le Printemps Revient by Hugues Aufray. Most of the Contest is lost, but on the audio you can hear backing singers repeating back lines from the song. There was no indication in other sources that there was anyone on stage with Aufray, but there must have been. These are the only unidentified performers from Eurovision 1964 – so who were they?
My first stop was Hugues Aufray's skiffle group. You can see them performing a different song together in 1964 here:
Given Aufray had a regular band, it seems likely that at least some of them joined him on stage in Copenhagen in 1964.
The YouTube video description names five members of the group who accompanied him in concert that year: guitarists Tatcho Fantini, Claude Mevel, Freddy Street and Michel Langouet, and double bassist Francis Dunglas.
For some time, I thought this was as far as I would get. But then I saw this new colourisation of a number of photos I hadn't previously been aware of:
The black-and-white originals in the DK archive indicate that Aufray had two backing performers. One is shown fairly clearly; the other is unfortunately obscured in every image.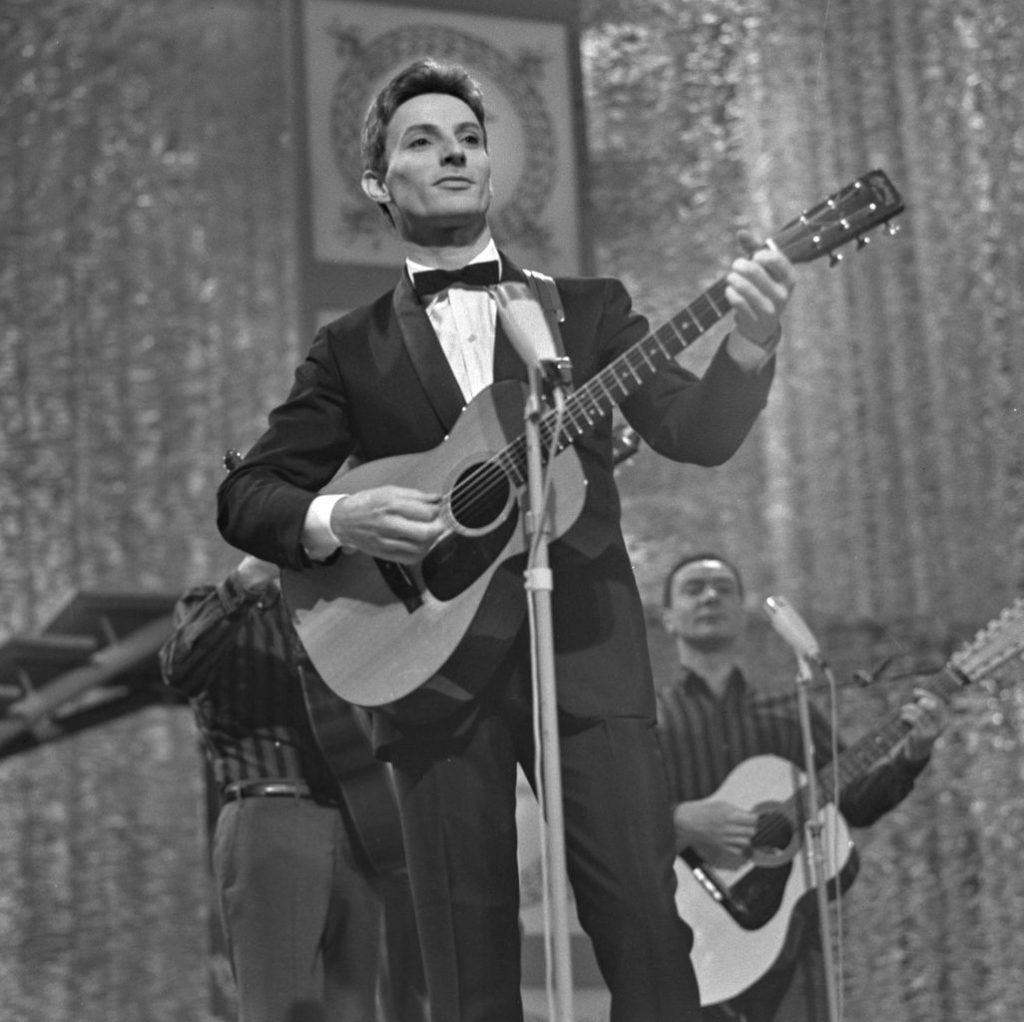 At least we stand a chance of identifying at least one.
Helpfully, the photographer Tony Frank took a range of photos of the group in the 1960s and has put them on his website. Here's one from 1963 – the guitarist on the left of Frank's photo appears to be Aufray's visible musician in the photo above. The names in the caption match those we got from YouTube, although it's not clear if the order in the caption is a left-to-right match with the band members in the photo.
For a start, we can discount the double bass player. With a bit more research and cross-referencing with different sources, I'm confident that the man we can see on stage in 1964 is Tatcho Fantini.
One down, one to go. Even though we can't see the other guitarist's face, we can see one useful clue: he's playing left-handed. And if you watch the YouTube video above, only one of Aufray's contemporary group played the guitar that way round. That's the fifth person in Frank's photo, smiling at the back.
A bit more cross-referencing with other images and videos and a process of elimination and we can be fairly sure the second guitarist and backing singer, whose face we never see, was Freddy Street.
And with that the list of performers for 1964 on Six on Stage is complete!