Last night I watched the 1978 Eurovision Song Contest and ended up solving a mystery that's been bugging me for three months.
From a Six on Stage perspective, the 1978 Contest is particularly interesting because it features the same backing singers on four different songs – or that's what I'd been led to believe.
There aren't a lot of primary sources you can go to when it comes to identifying backing singers from 40+ years ago, so there are some excellent secondary sources I fall back on: in particular the no longer updated Diggiloo Thrush and the comprehensive Dutch Eurovision Artists site.
Both sites agree that Georges and Michel Costa, Martine Latorre and Francine Chantereau provided backing vocals in 1978 for France, Germany, Belgium and – sans Michel – for Monaco. (It's Michel's absence there that means his brother has performed the most songs at Eurovision with 17, while Michel has sung on 16.)
But then I watched the French entry, illustrated here via a screengrab from one of the low-res copies of the Contest floating illicitly on YouTube: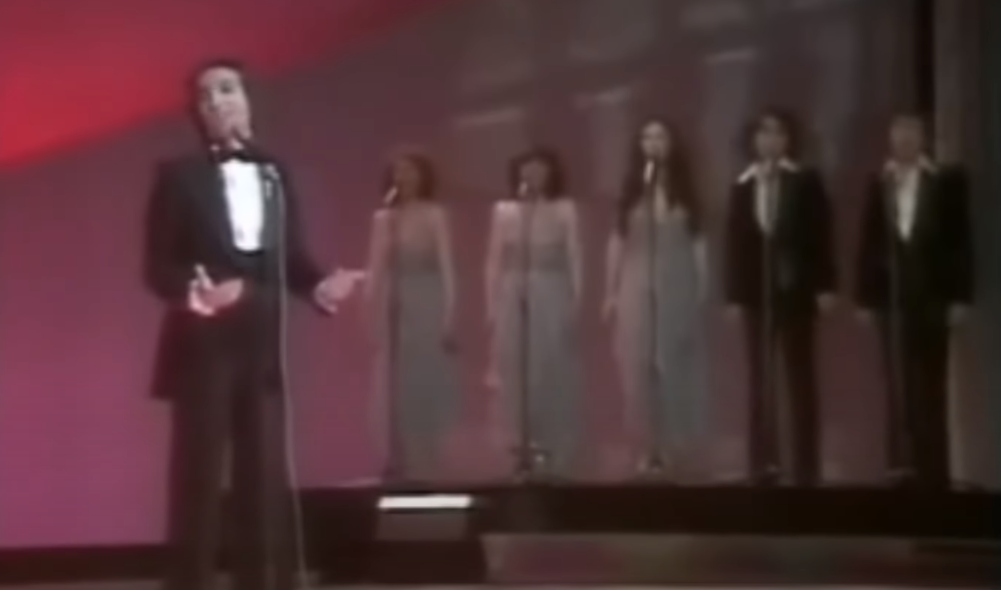 Voici Joël Prévost, accompanied by not four but five backing singers. We know that two of the female singers are Francine Chantereau and Martine Latorre, but who is the third?
---
Let's take a diversion to the 1986 Eurovision Song Contest in Norway. There, Georges and Michel Costa made their final appearance as Eurovision backing vocalists on a song they wrote themselves, Européennes by Cocktail Chic. Cocktail Chic comprised sisters Dominique Poulain and Catherine Bonnevay and their cousins… Francine Chantereau and Martine Latorre.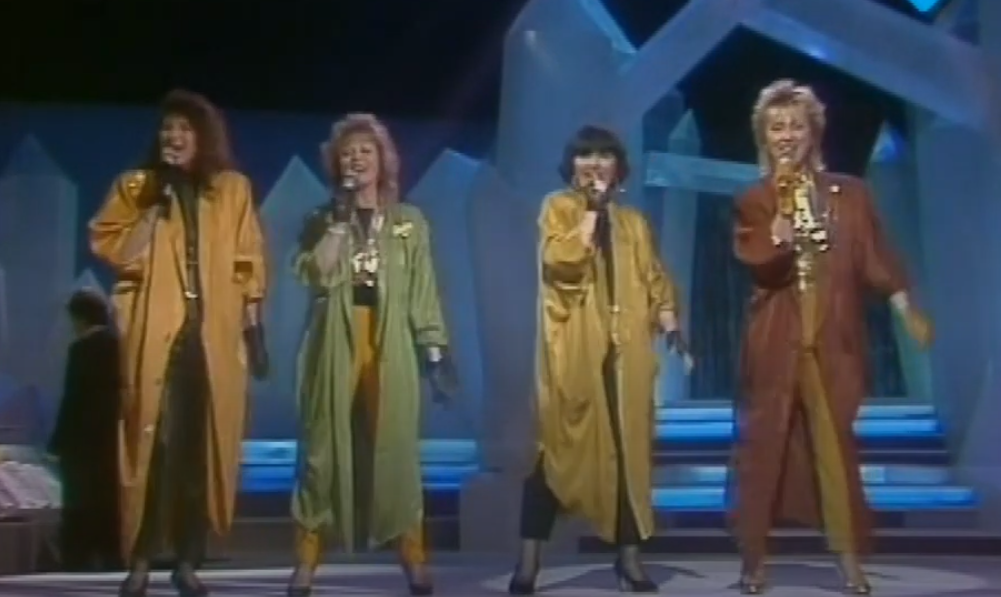 A bit more research reveals that these four formed a group at the end of the 1960s first called Les OP'4 and then, as Les Fléchettes, primarily providing backing vocals for singer Claude François. They also performed as Dominique et les Fléchettes, with Dominique (third in the image above) taking lead vocals. And in the 1970s they performed with the Costa brothers under the name Chance.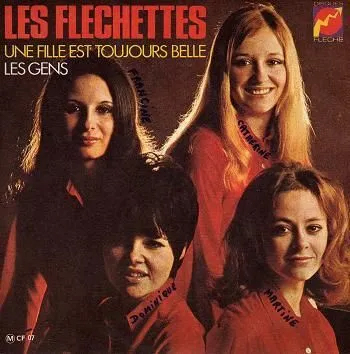 Francine and Dominique also sang backing vocals for Marie Myriam on the winning song in 1977 that brought the Contest to Paris.
So it stands to reason that the third female singer supporting France in 1978 is either Dominique or Catherine. Better check the other performances to see if they have the extra singer too!
Here's Belgium: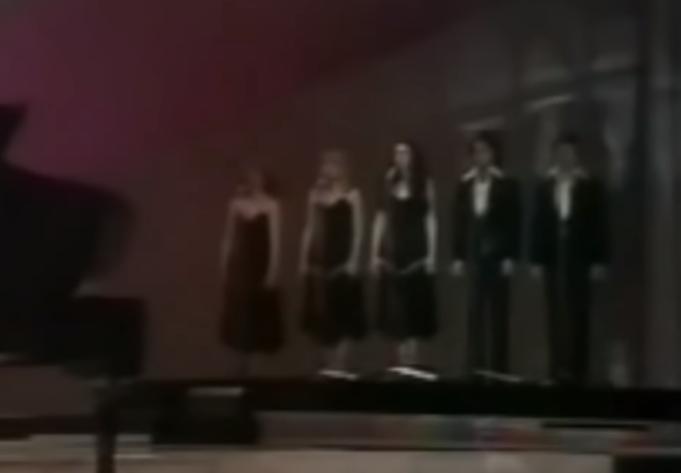 Aha! Yes indeed. It's a blurry picture but once again there are three female backing singers. Except… even in this low-quality copy it looks like those are not the same three.
What about Germany? Although that's odd in itself as Germany isn't a Francophone country. This interview (in French) with the Costa brothers sheds some light there. Translated:
Michel: There was a year when we sang for five countries, in Paris: France, Luxembourg, Monaco, Belgium and Germany. We changed jackets between songs.
Interviewer: Under what circumstances did you accompany Germany?
Michel: We went to rehearsals, and Germany was in the room, they did not have any singers and said to themselves "These singers must be very good because they represent everyone!" (laughs)
Interviewer: Wasn't it too hard to sing in German?
Georges: No, it was just "Feuer" to sing, and the rest was the "Ah", sounds like that.
NB: Baccara representing Luxembourg did not appear to have any backing vocals.
Germany was represented in 1978 by the glorious Ireen Sheer, who had sung in French representing Luxembourg four years earlier. Here she is in Paris: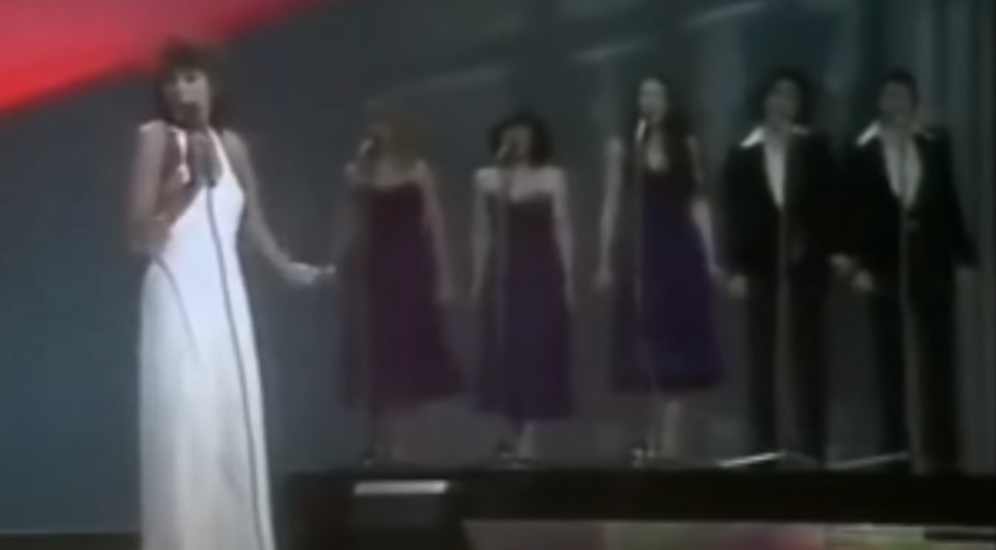 Right. The gang is back but they're different again. And Monaco is the very next song. Will they have time to change?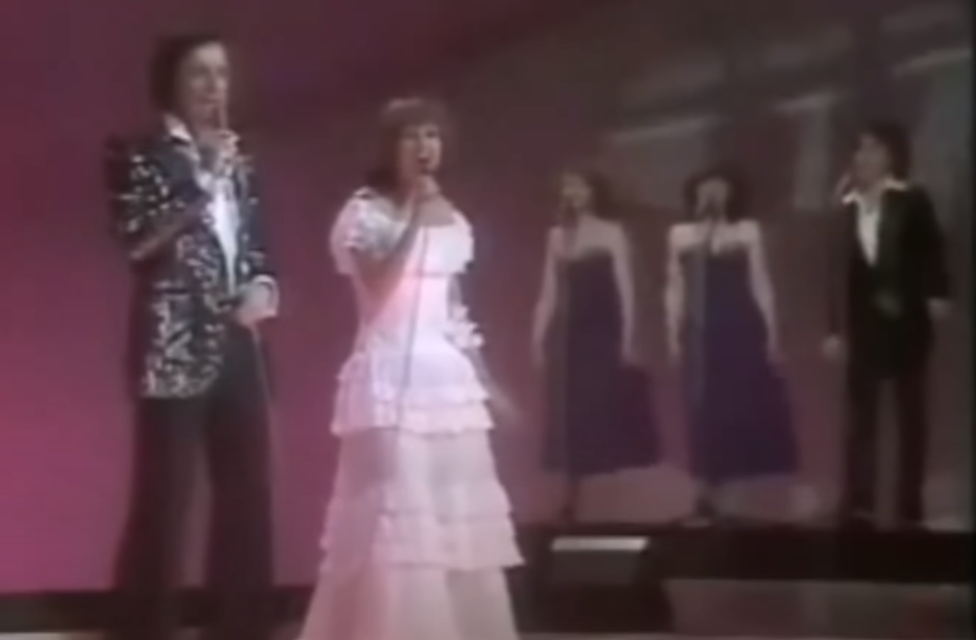 No, no they won't.
Although the picture quality is grainy, one helpful aspect of the '78 Contest is that instead of postcards there is backstage footage of each act making their way to the stage. In most cases the previous act is waiting to wish them good luck (well, waiting for them to vacate the lift so they can go back to their dressing rooms).
When Monaco and Germany cross, we see the Costa brothers backstage with four women in purple dresses. Four!
---
As you've probably worked out, the whole Fléchette family was there and rotated the backing vocal honours amongst them. So the next challenge was to identify who was who in order to list them correctly on Six on Stage.
I crudely classified them based on height and hair, because that's pretty much all there is to go on in this video. So we have:
France: ginger, short with dark hair, tall with dark hair
Belgium: ginger, blonde, tall with dark hair
Germany: blonde, short with dark hair, tall with dark hair
Monaco: ginger, short with dark hair
I told you it was crude. The next step was to name them. Helpfully, the Diggiloo Thrush's page for Cocktail Chic identifies them in their 1980s personas. Francine is the taller of the dark-haired women and Dominique the shorter. Catherine is blonde and Martine is not really ginger.
All that was left to do was to update Six on Stage with the correct backing singers:
France: Martine, Dominique, Francine
Belgium: Martine, Catherine, Francine
Germany: Catherine, Dominique, Francine
Monaco: Martine, Dominique
They're all there now on the 1978 page. Job done!
But that wasn't the mystery that had been bugging me. I said this involved five countries, not four, and we haven't even touched on Eurovision Again.
---
It's Ireen Sheer's fault.
She cropped up representing Luxembourg in 1985 during the most recent Eurovision Again. But she also represented them back in 1974.
Eurovision Again and the BBC treated us to that Contest as welcome lockdown relief in the middle of May. At the time, a number of eagle-eyed viewers tweeted that Ireen's backing singers stayed on stage in exactly the same outfits to provide vocals for the immediately following act, Romuald from Monaco. Frustratingly, I'd been unable to identify these four singers, none of whom was recorded in my go-to sources.

But then I started thinking: Ireen Sheer. Francophone countries. Four female singers. 1970s. Maybe there was more to Germany's choice of backing singers in 1978 than the Costas remembered. You can hear the cogs turning.
Sometimes the only evidence is the Contest itself.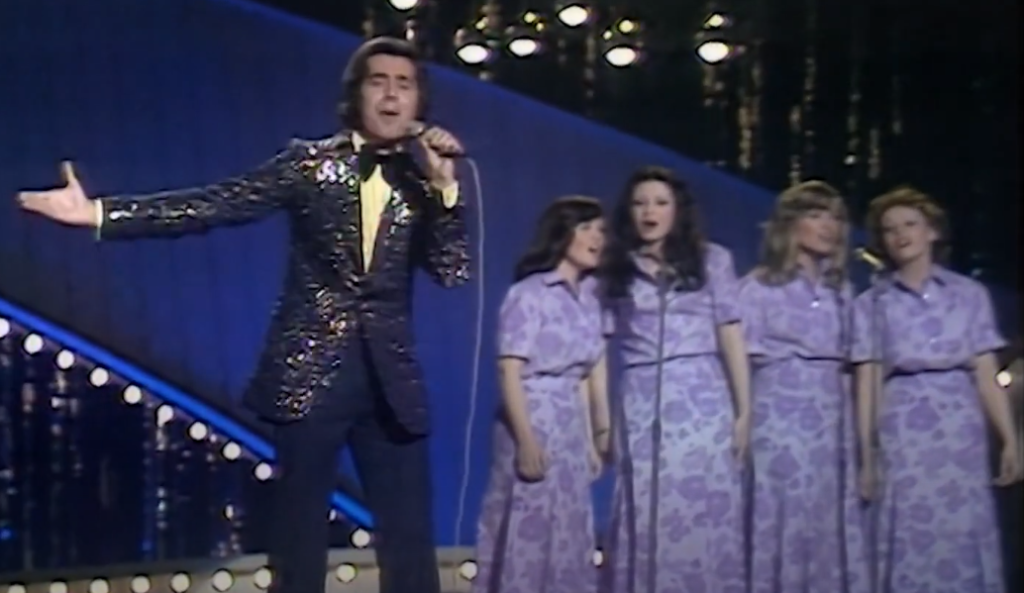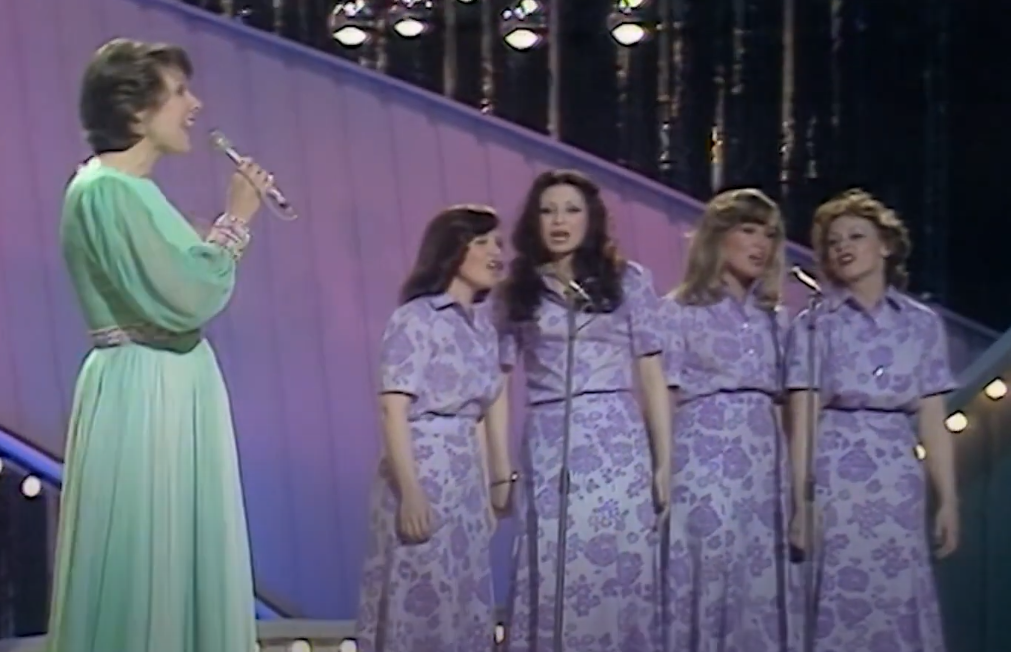 I've looked at contemporary photos and videos. I've squinted at the 1978 footage. I've pored over Cocktail Chic.
Yep. I'm calling it. That is, left to right, Dominique Poulain, Francine Chantereau, Catherine Bonnevay and Martine Latorre.
Mystery solved.