It's a cliché itself to suggest that Eurovision songs overuse the clichéd rhyme fire/desire. But how well-founded is that gripe?
I've run an analysis of all the lyrics I could get my hands on and identified just (or, depending on your view, a whopping) 18 songs that feature this word pair as a rhyme. The most tenuous is Tina Karol's Show Me Your Love, where the words are in separate verses but still clearly intended to rhyme; the most blatant is the only song to pull this off and take away the win, Helena Paparizou's My Number One. There are, unsurprisingly, many examples that didn't make it to Eurovision hiding away in national finals (to take a random one, Survivor by, er, Helena Paparizou…).
One reason there aren't more cases is the national language rule that was imposed for much of the Eurovision Song Contest's history. For those periods, only the UK, Ireland and Malta were eligible to sing in English. There is a single song that I've identified before the rule changed in 1999 – also the earliest of this trope – and that's Vikki's 1985 UK entry Love Is… The desire (ahem) was there though. One year earlier, Waiting in the Rain, the English version of Hot Eyes' Danish entry Det' lige det, gives us:
I never used to play with the fire
I always used to follow the stream
But now I'm burnin' up with desire
'Cause it's for real, not a dream
While 18 songs of more than 1,600 isn't a lot, they are bunched up, and nearly all from the 21st century. The 2004 Contest saw no fewer than three songs sneak that rhyme onto the stage: the Netherlands' Without You, Denmark's Shame On You, and Greece's Shake It.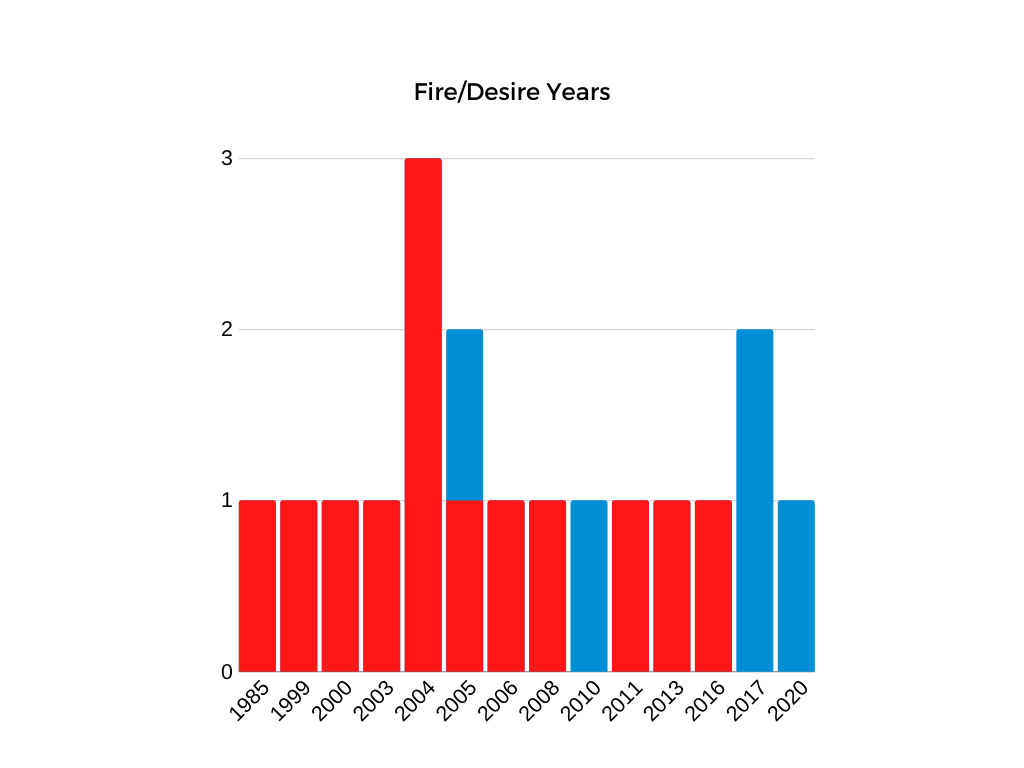 Now that I've mentioned both examples, it will be apparent that Greece is also one of the four countries to use this lyrical pearl more than once.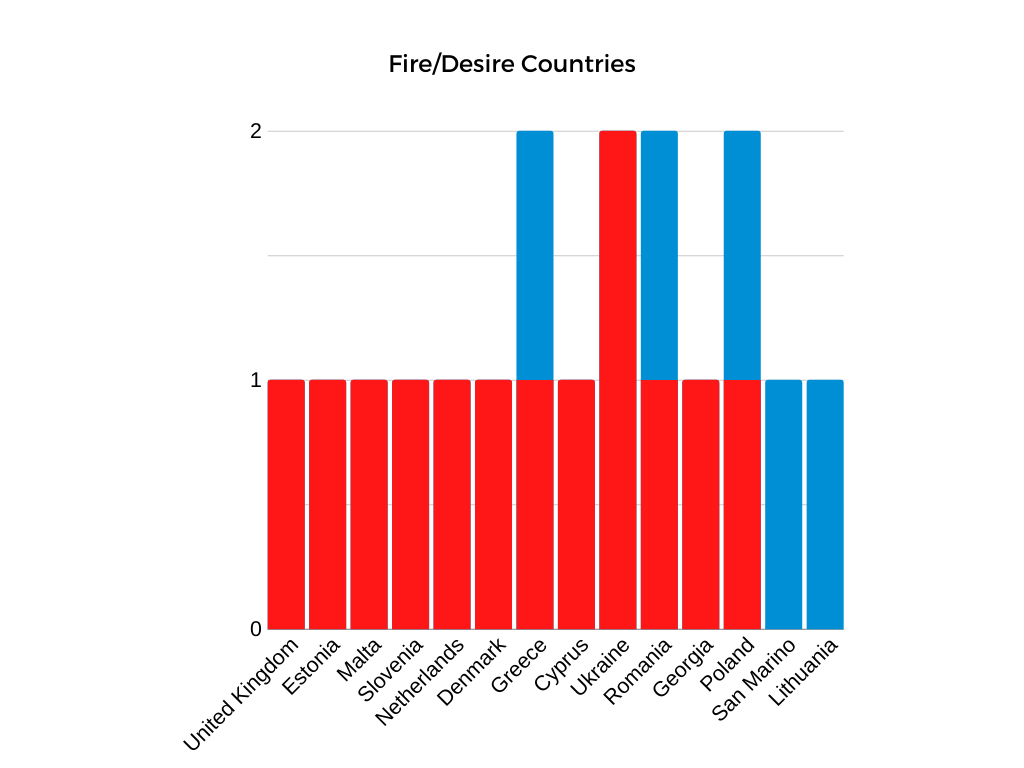 While it's tempting to blame Vikki for introducing the trope to Eurovision, so much time passed between the first and second occurrences that I'm inclined to look beyond the Contest. Lyricists have used the same pairing plenty of times in the pop charts. For instance, it was in 1999, the year of the next incident, that the Backstreet Boys released their hit I Want It That Way: a much higher profile culprit, and at the very time the rest of Europe began to sing in English.
Should you desire to set your heart on fire and make your pulse get higher, you can enjoy all 18 songs on my Fire/Desire YouTube playlist or the 14 of them that are available on Spotify.